First Annual Online Menstrual Party – Press Release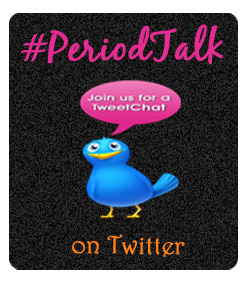 First Annual Online Menstrual Party
In celebration of one year of monthly online educational chats, Be Prepared Period and You ARE Loved are proud to announce the First Annual Online Menstrual Party will be held on Friday, July 13 from 2:00 – 3:00 p.m. ET. This public event can be accessed via Twitter using the hashtag #PeriodTalk.
Marysville, WA June 25, 2012
With the goal of doing more AND better menstrual education, Be Prepared Period and You ARE Loved joined together to launch a monthly menstrual education event in July 2011. These monthly gatherings, known to many as #PeriodTalk, have grown from a few to fifty or more participants discussing the month's topic. Past topics include
Periodic Stories: Ours and Yours, Exploring the Many Feminine Hygiene Options,
and
Puberty and Periods: Guiding Tween and Teen Girls
.
While every #PeriodTalk is unique, each features considerable interaction between the hosts, special guests, and participants. The partnering organizations co-host and moderate the event, develop the topic, secure special guests, and offer relevant product giveaways. Special guests serve as subject matter experts; prior special guests include educators, small business owners of companies that offer innovative and empowering menstrual products, and representatives from companies that provide eco-friendly feminine hygiene products. Participants are encouraged to join in the conversation, and welcomed to ask questions. At the conclusion of the event, winners are randomly selected and announced for that session's giveaways.
In celebration of a successful first year, the July 13, 2012, edition of #PeriodTalk will be a menstrual party unlike any other. Additional information, including links to register for multiple product giveaways, is available on the Tweet Chat pages of the Be Prepared Period and You ARE Loved websites.
About Be Prepared Period
Be Prepared Period is a woman owned business committed to ending the menstrual taboo, empowering all who menstruate, and providing quality feminine hygiene products at reasonable prices.
Contact: Tara Bruley (Tara@BePreparedPeriod), Founder & Owner
About You ARE Loved
You ARE Loved is a nonprofit committed to raising awareness about tampon related Toxic Shock Syndrome and providing factual information about menstruation.
Contact: Suzan Hutchinson (Suzan@You-ARE-Loved.org), TSS Survivor & Director of Connectivity